About Springfield Music
Springfield Music has been serving musicians in Missouri and beyond since 1961.  They are a company bursting with character and a passion for music; offering sales, service, lessons and the best band and orchestra rental program in the area.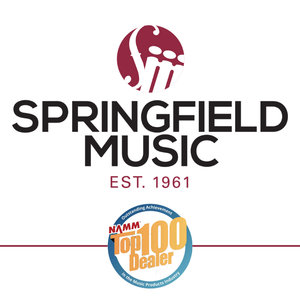 Springfield Music is ranked in the  top 100 music stores in the world by NAMM and The Music Trades publication.
Their school service department is staffed with former directors, education grades, and life-long musicians enabling them to best serve the needs of their friends and customers.
What's it like being a JP Dealer?
"We love having quality, affordable products that offer something unique over the competition - and the model lineup from JP does just that. We often use their intermediate and step-up instruments in our beginning rental pool in order to differentiate ourselves from the competition. And their student-level background instruments are so affordable that parents can actually afford to rent them for their children.
"But one of my favorite things about being a JP dealer is the relationship. Rob Hanson and the team at JP are fantastic people, and offer tremendous support (and friendship) to their dealers - something that we enjoy and appreciate."
Donovan Bankhead
Springfield Music