About San Diego Music Studio
San Diego Music Studio is a band and orchestra store located in San Diego County, California. With robust band programs in the surrounding areas, San Diego Music Studio boasts a wide selection of instruments for schools, rentals, and for customers to purchase. As a low brass specialist, the store has an exceptional repair and maintenance department for instruments from trombone to tuba.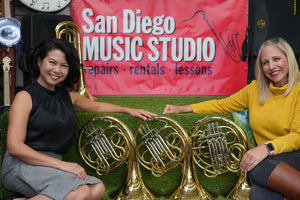 San Diego Music Studio has been selected as a worldwide Top 100 Dealer every year since 2013. The store is also the winner of the NAMM Music Makes a Difference Category 2019, and Best Single Store Dealer 2019 and Best Clinics 2020 by Music & Sound Retailer.
The store focuses on community involvement and advocacy worldwide. As a leader in music education, San Diego Music Studio provides scholarships and free instrument repair to students locally and partners with The Philippines Ukulele Project to supply instruments and instruction to at-risk children in impoverished areas of the world.
What's it like being a JP Dealer?
"Our local teachers love John Packer instruments, and we love to deliver! The instruments are reliable, well-packaged, and competitively priced.
Being a John Packer Dealer allows students access to exceptional instruments at a reasonable price. We have had "flute" rental years. We have had "trumpet" rental years. When we became John Packer dealers, we were finally able to have a "baritone" year! Thank you, John Packer, for making this happen!"
Robin Jean Sassi
San Diego Music Studio
What do we say?
"All over the world we have cultivated a wide ranging list of stockists for John Packer Musical Instruments. San Diego Music Studio are a fairly new addition to the club however what an amazing addition they are. Robin and Kimberly truly are power houses for music education advocacy. Every music store should be at the heart of its community. San Diego Music Studio is without question smack right in the centre of that. I am more than excited for the projects that we can undertake together over the coming years."
Rob Hanson
JPMI Director