About Plum Grove Music
Plum Grove Music is a retailer and education establishment at the heart of its community in Lowell, Indiana.

The company was founded by Rick Thacker - a passionate violinist and teacher, who recognised a need for a specialist retailer in his town. Rick was inspired to provide the city experience in his shop and also driven with a goal to share the joy of music.

His shop features a large showroom for musical products, a repair shop and a stage for monthly student concerts featuring the 100+ students who study at Plum Grove.

Rick has become a recognised voice for music retail; named as one of the Top 100 Music Dealers worldwide by NAMM - an honour which ranks Plum Grove in the top 1% of music dealers in the world.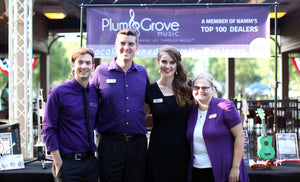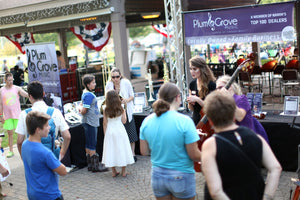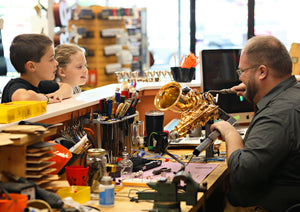 As Plum Grove Music grew, so became a demand for band instruments. John Packer Musical Instruments and Plum Grove Music have a passion for getting good instruments into the hands of students, which is how they came to partner.

"Having Rob Hanson and the John Packer family on our team has been the single greatest blessing in our band rental efforts," says Rick.

Plum Grove is now a school music dealer servicing 31 schools and programs over a territory that is several hundred miles wide. They have clients and instruments in fifteen states and eleven foreign countries.

Additionally Plum Grove's foreign efforts are all non-profit ministries or NGOs (non-government organizations) where they are using the resources that "God has blessed us with" to share the joy of music with those who are even further from a local violin (and now band) shop!

"John Packer is invaluable to that effort, and is helping us achieve our vision."
What's it like being a JP Dealer?
"We had always abided by the adage, 'We want our clients to grow into their instruments and not out of their instruments.'  We needed a partner who would provide high quality instruments at a price that could be offered as a student's first horn.  John Packer instruments do just that.  The JP251SWS trumpet literally blows away the competition.  Clients are amazed that they get to start on a silver horn!  Some JP dealers call this trumpet the "Yamaha Killer"!  :)  
"The Rath trombone is amazing and has been embraced by many professional players in our market.  The JP165 single horn at just four pounds is a lifesaver for smaller players, and the JP164 offers a fantastic step up when they are ready for a double horn.  Directors and students who try the horns have been immediately impressed with the sound and quality, especially for the price point.  In fact, one of my local teachers prefers his JP261D to his Conn 8D!
"I always say that John Packer horns give a tremendous 'bang for your buck'.  The brass is unparalleled, out performing other major brands costing much, much more. It should come as no surprise that the trombones have gained the attention and endorsement of YouTube star Christopher Bell of Classical Trombone.  Additionally, nationally recognized competitive marching bands such as The Pride of Bixby and The Pride of Broken Arrow have won major national championships in recent years using John Packer horns." 
Rick Thacker
Plum Grove Music
What do we say?
"Rick Thacker the owner is one of the few people in the music industry that I can see eye to eye with. As we are both around 6ft 6" tall.  Rick has an amazing business full energy whilst also being very educationally minded. He is without question one of the nicest people I know and also without question from one of the nicest families I know. Plum Grove's company Motto is creating Joy through music. This is something that they achieve each and every day and we are proud do go on this journey with them."
Rob Hanson
JPMI Director