About Atelier Pfeiffer
Atelier Pfeiffer was founded in 1928 by Josef Pfeiffer who had travelled to the Netherlands from Eastern Germany to work in an instrument factory. After Josef's sudden death in the 1960s, his son Ruud Pfeiffer took over, working until he was 69. In January 2017 Marcel Schot took over the shop. Some months later in June 2017 Ruud passed away, aged 87.  The shop is now a household name in the Netherlands, such is its longstanding reputation.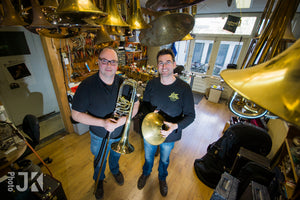 Atelier Pfeiffer is located in the same place for almost 70 years, with Marcel Schot (bass trombononist/tubist), and Heiko Ebner (trumpet) making up the team. 
With a broad customer base of very young beginners, to professional musicians from the most famous Dutch symphony orchestra The Royal Concertgebouw Orchestra, Atelier Pfeiffer is a respected retailer of instruments and servicing. They enjoy being exclusive dealers of JP Musical Instruments, in addition to other highly resepcted brands, like Michael Rath Trombones.
What's it like being a JP Dealer?
"Because of the different levels JP offers, there is a good instrument for each budget.
"JP is always improving their range and the after-service is great."
Marcel Schot
Atelier Pfeiffer