Jon Scott praises JP351SW HW as "an excellent instrument"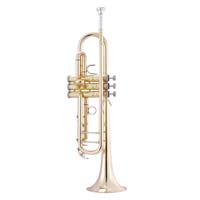 Respected sessions musician Jon Scott recently tried our new JP351SW HW Heavyweight Bb Trumpet. Find out what he had to say:
Big Band Jazz Trumpet Legend and Jools Holland sideman Jon Scott started his career as Lead Trumpet in the Orchestra of the Sporting Club of Monte Carlo where he stayed for 2 years backing artists including Sammy Davis Junior and Michael Jackson. He left Monte Carlo to tour Britain and Europe with The Four Tops and during this got a call to play a couple of gigs with the Jools Holland Band. Since then he has featured on many Live TV recordings, 'Later with Jools', 'Jools' Hootenanny' and Chris Evans' 'Don't Forget Your Toothbrush' – backing artists such as Kylie Minogue, Amy Winehouse, George Harrison and Sting – amongst 100s of others. 

"This is an excellent instrument. The most important thing a trumpet player needs is a great sound. The second most important thing is accuracy. For the latter the JP351SW HW is set up beautifully. Regarding the sound, it has a strong, dense core which broadens into a warm rich sound and ultimately starts to fizz in the altissimo range. I'll happily endorse this trumpet!" 
---